Warranty, Parts & Service
PlasmaCAM, Inc. is committed to its customers and stands behind its product 100%.
PlasmaCAM's video-based instruction manual shows how to set up, operate and maintain the machine. Several practice exercises teach you how to use the software effectively. We actually show you what to do in the videos, almost as though we were in your shop. And since the video manual is easy to navigate, you can quickly search and locate instructions on any topic.
The PlasmaCAM system is incredibly reliable and easy to use, making it the obvious choice for schools, small shops, home hobbyists, and anyone else who wants to stop wasting time and get things done.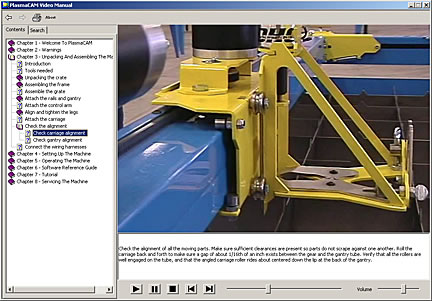 In addition to the video manual, PlasmaCAM provides free, high-quality telephone technical support as well as an online forum of owners. If you own a machine and need help, you can call our support line directly at (719) 676-2701 or visit our Owners' Community to connect with other PlasmaCAM machine users.
PlasmaCAM's reputation for customer satisfaction is outstanding!