Cutting Table Durability, Strength and Dependability
For over two decades, PlasmaCAM® CNC cutting machines have been used around the world. The machines have been completely designed, engineered, and manufactured in the USA by PlasmaCAM, Inc. Over the years, tens of thousands of people including home hobbyists, welders, machinists, manufacturers, teachers, and soldiers have used and relied upon PlsmaCAM cutting systems. PlasmaCAM machines have truly withstood the test of time.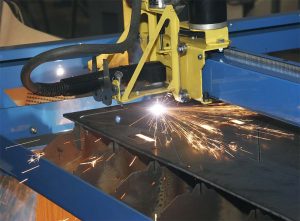 PlasmaCAM machines are made from laser-cut, cold-rolled steel components. Steel is much more durable and has a higher melting point than aluminum. Our precision manufacturing process allows higher accuracy as well. Comparing tolerances, our guide rails are about 3 times straighter than standard aluminum extrusions found on other machines on the market. Another benefit of an all-steel frame is that temperature distortion is avoided. If we used aluminum frame pieces, we would still have to bolt steel parts to them (like gear racks and guides). This would create a conflict between the steel and aluminum that would warp under temperature changes. Also, the whole table would grow and shrink under the material. But since all steel is used, the machine remains accurate as it cuts.
The PlasmaCAM machine frame is more than strong enough to handle steel plate up to 1 inch thick. (A 4-foot by 4-foot piece of 1 inch thick plate weights about 660 pounds.) A few stress tests were performed on a machine frame, to determine how much weight it could hold. As shown in the photo, three pallets of heavy steel parts were weighed and stacked on top of the machine with a forklift.
Even with over 10,000 pounds of weight on it, the frame did not collapse. This means that the PlasmaCAM machine is more than ten times as strong as it needs to be.
PlasmaCAM Machine Cutting Heavy 1" Plate for a Front End Loader Bucket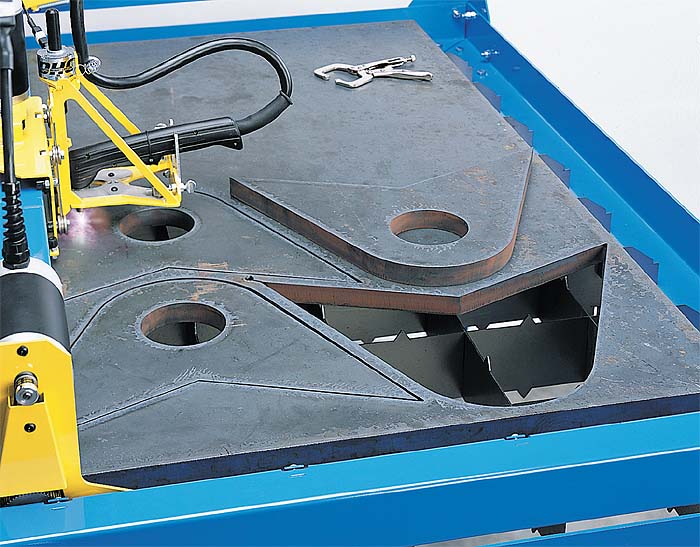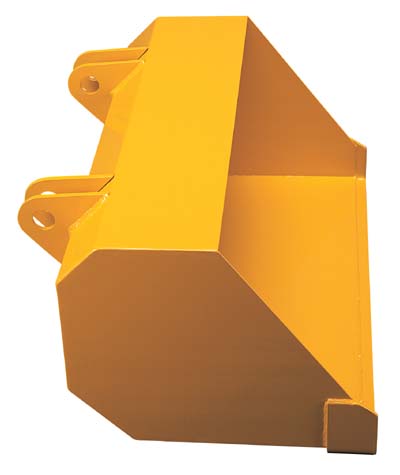 PlasmaCAM machines are used for cutting custom components  and repair parts for heavy equipment.
NOTE: Traditionally, CNC machines have been built by cobbling critical components together without having much to do with the design and engineering process. These companies often purchase frame parts, motors, controls, software, etc. from outside sources, including low quality, cheap knock-offs. They do this because it's easy money for them. Also, since they don't have control over the design process of the components, the pieces do not usually work together efficiently.
DESIGNED TO LAST: Our engineers at PlasmaCAM, have meticulously designed and engineered all parts of the machine from the frame, cables, gear driven gantry to the electronic control box and software.
PROVEN DEPENDABILITY: Over the years, PlasmaCAM machines have cut more than 1 billion feet of metal, combined. Several large manufacturing facilities have more than one PlasmaCAM machine in use simultaneously.
As other companies have appeared and disappeared (leaving their customers to fend for themselves), PlasmaCAM remains an industry leader committed to their customers.
Our quality control and commitment to customer support are unprecedented. Examples include free software updates, a 3-year limited warranty and free technical support, and readily available replacement parts.