PlasmaCAM® cutting systems are revolutionizing engineering and maintenance operations in the government and military, from local municipalities to every branch of the U.S. Armed Forces. The Army relies on our machines in the field, and the Navy even runs them onboard ships at sea.
The military chooses PlasmaCAM systems because they are reliable, accurate, versatile, easy to use, and compact. Maintenance and shop personnel can draw and cut whatever parts they need to immediately repair or improvise vehicles and equipment. Military contractors even make precise prototype parts for research and development of new defense systems.
Various governmental agencies around the world utilize PlasmaCAM machines for public works, transportation, and infrastructure development as well. Local governments and their contractors use our DesignEdge software to create custom signage and urban architecture to enhance the look and feel of towns and cities.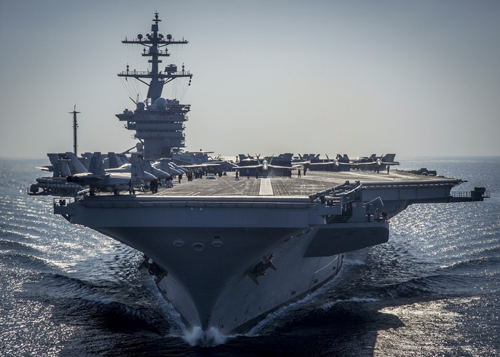 This Navy ship has a PlasmaCAM machine onboard.
(photo courtesy U.S. Navy)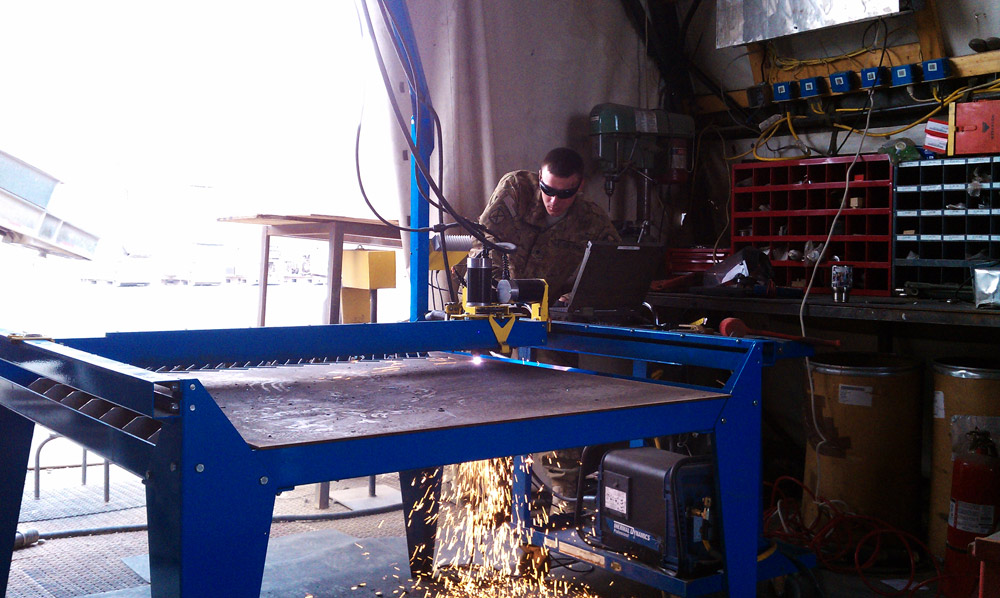 This US soldier used the PlasmaCAM to cut custom parts in Afghanistan
PlasmaCAM machines are also widely used in public education, from secondary school to university level. The system is so effective and easy to operate that even many correctional facilities use them to rehabilitate inmates, who learn new trades with greater economic potential.
PlasmaCAM owners include:
What PlasmaCAM machine owners are saying
Hi Guys, we are having tremendous success with our machine! Just wanted to let you all know. Jobs that took a week are now down to hours. Enclosed are a few pics of what we have done. Since the machine is inside the ship, the dust and fumes were a big problem, we built a free standing curtain rod affair around it and hung welding curtains all the way around, eventually the edges will have Velcro sewn in and a tray in the bottom to catch the slag, we insert a 6 inch vent hose from our welding exhaust inside the curtain and all smoke and dust is sucked up and blown outside.
The pics are of a gun mount which is the first thing we designed and drew from scratch on the computer, it is 1/4″ 304 stainless.
Thanks for the great machine. – **** ***** ,CWO2, US Navy Sailor , USS Boxer