Software that makes all the Difference
PlasmaCAM's DesignEdge® software was developed specifically for plasma cutting and is the most important part of the system. This complete Windows-based CAD/CAM program not only creates designs, it also runs the machine (no other software programs are needed). You'll be amazed by how easily you can make outstanding products.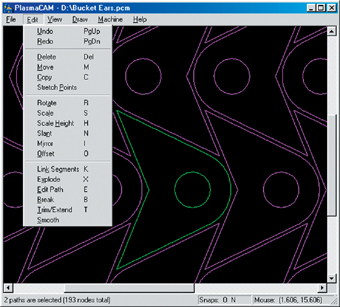 The CAD features of our software allow you to quickly draw and layout precise geometric shapes like these dirt bucket parts. The bucket ears were drawn in less than 1 minute and were cut from 1″ thick steel in our demo video.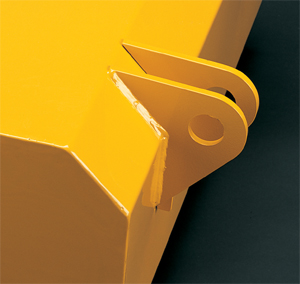 PlasmaCAM is the only CNC plasma cutting machine that lets you work directly with the images that you want to cut, eliminating the extra steps and software required to program a conventional CNC machine.
In less than one hour, this hand-drawn art scene was scanned, prepared for cutting by the software, and cut out of metal. Then it was painted and framed.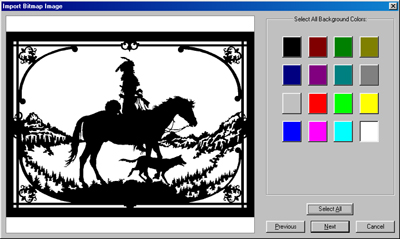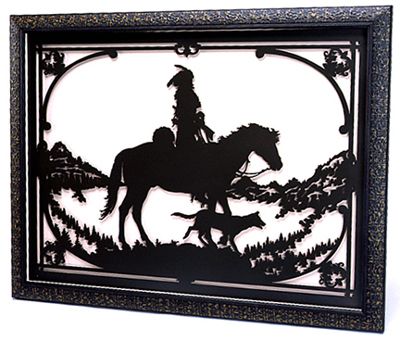 Many shops with high-dollar machines, buy our software to replace theirs.
Draw new shapes and modify designs with ease.
Draw simple geometric shapes to exact dimensions, or sketch artistic shapes on screen by hand. Draw complex shapes to your specifications from a built-in library of useful designs ranging from flanges and gears to flowers and scrolls. Modify, resize, rotate, and make copies of your designs with snaps for perfect size and position.
Directly read and convert pictures, hand-drawn artwork, CAD files, and many other formats.
Automatic options remove defects and turn images into smooth, linked paths that can be cut by a machine. You can even add detail to your drawing by tracing and brushing directly over an original photo or scanned image.
Use ready-to-cut, detailed silhouette images from PlasmaCAM art discs.
Each disc contains numerous silhouette shapes designed for use in various metal projects. A free sample from each Art Disc is included with the DesignEdge software.
Add custom lettering to your designs.
Choose from over 500 built-in fonts for plasma cutting, or use your own TrueType fonts. The DesignEdge software automatically joins letters to your design and can even stencil them and fit text to curves or other shapes.
Automatically prepare complex drawings for cutting in one step.
Cut paths are offset from the desired shape to compensate for the torch kerf, with lead-in pierce points that protect the cut edge. (Our patented process cuts intricate detail without the typical offset crossover defects of other software and will even cut down the middle of slots narrower than the kerf in a single pass.) Holes are automatically converted and cut in the most efficient order before the perimeter.
Preview a design before you cut it.
See how long your designs will take to cut, and check or alter the order that paths will cut. You can print or show designs to customers before you cut them and quickly make any needed changes.   You can also export designs in various formats (including DXF and G-code).
See and control the machine in real-time.
Simply place parts on the screen where you want them cut from the metal. You can even move the machine to where you want to cut the part and move the drawing to match.
Nest large numbers of parts for efficient production.
You can draw geometric arrays of many parts or use our high-performance, true shape nesting to tightly fit large numbers of different parts on sheets and even fill unused spaces and holes to optimize material utilization.
Make formed pieces and HVAC fittings.
Create bent sheetmetal parts by automatically notching bend lines for easy alignment in a brake or perforating them for bending by hand. Specialized HVAC software designs custom ductwork and fittings that you form after cutting the flat patterns.
Make 3D shapes with other tools and materials.
You can create a 3D relief from a photo or solid model, run a 3D G-Code program, or even slice a 3D file into 2D layers that you cut and stack.
Fully customizable software.
You can customize colors, toolbars and menu shortcuts, use English or metric units, and even change the physical size and resolution of your machine.
Extra seat licenses.
Design on multiple computers at once, or use an office computer for design and a shop computer for running the machine. Schools often use many seats in a classroom to teach students.
Watch our demo video to see the software capabilities in action and to show you why they are so important for your success.