MODERN METAL CREATIONS FROM TIME-HONORED TRADITIONS
The woodworking world offers innumerable projects for you to make in your garage, from books filled with scroll saw art to sophisticated mechanical projects like clocks. We've noticed that more and more metalworkers are taking these designs and making the same projects out of metal. With the help of CNC plasma cutting, the metal versions are often easier to make and more impressive than their wooden predecessors.
We wanted to explore and push the envelope on this idea, so we decided to build a working metal clock. We obtained plans for a wooden clock called Nautica from Dr. David Goodyear, increasing the size by 20 percent. The plans included computer drawings of all the parts, making them easy to load into the DesignEdge software and cut on a high-definition Samson CNC plasma cutting machine.
The finished clock keeps perfect time, measuring over 42 inches tall and weighing about 75 pounds. This fascinating exercise in metalworking and craftsmanship inspired a sense of nostalgia. Like a time machine, the clock took us back to simpler days before electronics, when the modern world was mechanical.
Dr. David Goodyear is both a medical physicist and an award-winning artist. His favorite hobby has always been woodworking, and this eventually developed into clock building. David credits his inspiration for eye-catching designs to the rich history of timekeeping engineers. "Since the beginning," he explains, "man has been grasping at the concept of the passing of time and measuring it."
Today, David teaches courses on clock building and also offers a number of designs, plans, and ready-to-assemble kits for purchase. What makes David's clock designs so impressive is that they are fully functional mechanisms that can be constructed by anyone with standard woodworking equipment. These living sculptures are typically driven by gravity and don't require batteries, motors, or specialized clock movements. For more information, visit www.ontimewoodenclocks.com.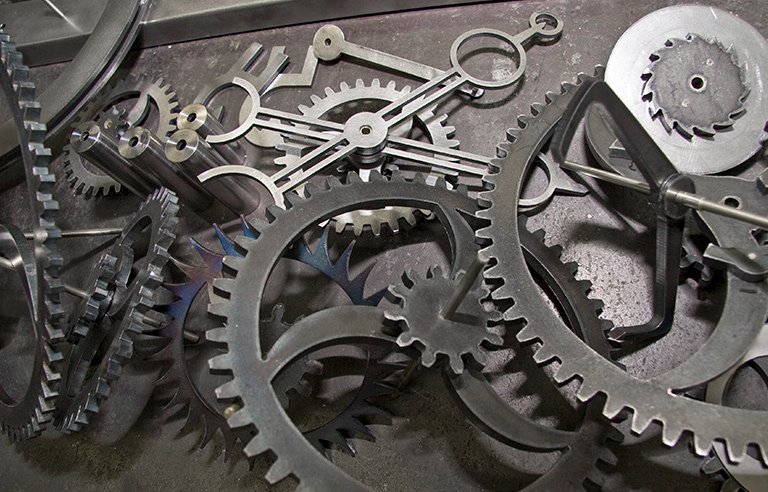 Most of the flat parts including the gears, escapement, hands, clock face, and pendulum were simply plasma cut from 10-gauge or thinner sheets of steel and sanded to create a shiny finish. The back of the frame was made from 1-inch by 2-inch rectangular tubing, with curved caps wended onto the ends. The front of the frame is similar but includes an ocean tide viewing hole made from two pieces of pipe welded to plasma cut rings in the shape of a donut that was fit and welded to the rectangular tubing.
Three spacers made from ¾-inch pipe were used to bolt the frame pieces together, with space between them for all the moving parts. These also mount the clock to the wall and hold the clock face, which was made from two rings separated by spacers. Decorative buttons machined from 5/8-inch rod were placed in holes to mark each three-hour position within the clock face.
A curved piece of flat stock was tack welded between two plasma cut rings to make the cable spool, which was connected to the main drive gear through a plasma cut ratchet. Two shaft collars were welded to the back of the pendulum, allowing its position to be easily adjusted along two ¼-inch rods that drive the escapement at the top of the clock. The weight was made from a one-foot-long piece of 3-inch pipe, with plasma cut caps held by a threaded rod through the center. The bottom cap is removable, allowing the pipe to be filled with an adjustable amount of lead weight.