WHEN I CANT BUILD SOMETHING, I BUILD SOMETHING
When the construction industry took a downturn in 2008, Brian Manino turned his attention to metal. "We had a lot of time without a lot to do," he explains. "So I took some guys into the shop, and we tried to create something. We sat around and thought about what people were still buying in this economy, and one of the things was coffee. And so I decided to design a coffee station for an office."
After a few revisions, the finished station was ready for distribution. "People were like, 'Wow, that's so cool!'" recalls Manino. Not long after, he paired up with Roaring Spring Bottle Water Company and his stations were sold to a handful of banks and car dealerships. "Our ultimate goal was to manufacture them ourselves, and we did," he says.
"I'm just an average person, but I got passionate about what I was doing," says Manino. He's designed and
fabricated a variety of other plasma cut items including wine stations and several elements of his wife's hair salon—from the business signs to the shelves, product displays, mirror frames, partitions, work stations, and front desk. "Your only limitation is your imagination," he explains.
Since the economy picked up and his construction business revitalized, Manino uses his CNC plasma cutting machine on the job site too. "The neatest thing is that when I see a need for something, I know I can make it. Before it was just a thought." For example, Manino makes his own arches for brick laying. "When we need one, I can cut it," he explains, "and I can make it any length."
"I couldn't be happier with my PlasmaCAM machine," says Manino. "It has made my life. There wasn't even much of a learning curve." When describing his love for creating something new, he explains, "Watching the machine cut your design is a thrill. To have someone else cut it wouldn't be as fun."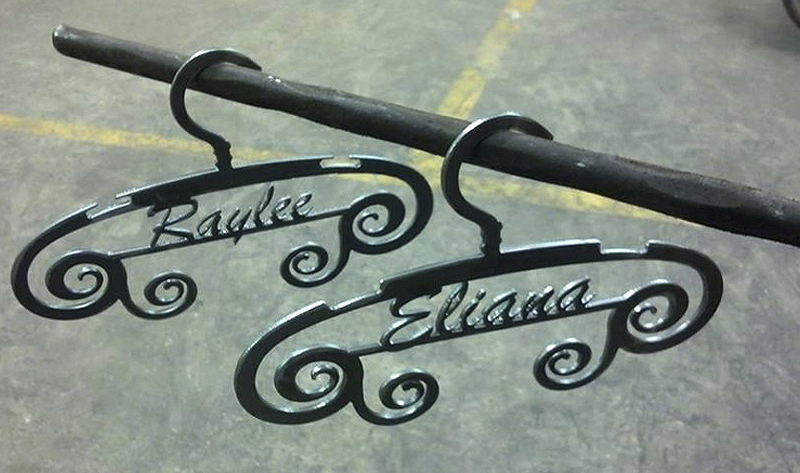 Manino made all the displays and product racks in his wife's hair salon.