Current Projects

---
Hollywood Fabricator Eddie Paul builds life sized versions from the Pixar movie Cars
| | | |
| --- | --- | --- |
| Rate this project: | | (103 votes cast) |
The PlasmaCAM machine is an automated CNC plasma cutter with great versatility. If there was one person that could really test its capabilities it would be master fabricator: Eddie Paul with Customs by Eddie Paul in El Segundo, California. Eddie has built custom cars for such movies as Cars, Grease, Cobra, The Fast and the Furious, Triple X, and others.

Video clip provided by PTGtv for "Competitive Edge" - All Rights Reserved 2007
Eddie is usually under tight deadlines. "Movie producers are giving us jobs lately with unbelievable deadlines". These tight deadlines create a great need for a lot of custom cut metal parts. Before he ran into the PlasmaCAM CNC table he was having other companies cut the pieces he needed. This held up projects that needed to be done quickly. Eddie says, "Since we need a lot of precise metal cut quickly, we got a new PlasmaCAM Machine".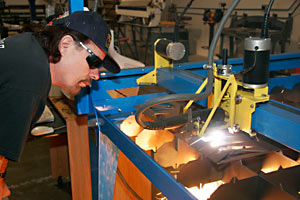 Eddie has found that the ease of use and new project possibilities of having a CNC plasma cutting table in house to be an added benefit. "We were totally amazed by how easy it is to use. I didn't even sleep the night after I got the machine, thinking of all the possibilities. It has opened up a whole new world of things we never thought we could do".
With the help of this automated plasma cutter Eddie has been able to make real-life versions of "Lightning McQueen™" and "Sally" from the Pixar® movie Cars. He is able to now build parts in house for these specialized cars such as custom dashboards, custom brackets and other precise pieces.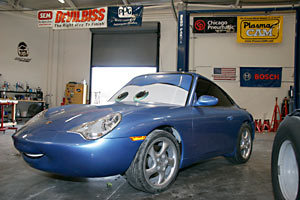 Eddie's shop was also recently featured on The History Channel's Test Lab. Test Lab is a show that rigorously tests safety equipment like shark suits and fireman's jackets. Eddie's shop was called on to test a new kind of bullet-proof vest called Dragon Skin®. Eddie created a pneumatic air gun and to shoot small metal objects that resemble ninja throwing stars at the vest. These sharp precision projectiles could not have been cut without CNC automation from PlasmaCAM.
Eddie Paul is referred to as, "Hollywood's best kept secret" for a number of reasons. First and foremost he makes the impossible possible... on time and on budget. As a matter of fact, Customs by Eddie Paul has never missed a deadline. The PlasmaCAM plasma torch cutting system is one of the reasons that Eddie's shop stays innovative and on schedule.
The article below was published by FF Journal magazine September 2007 to describe how Eddie Paul uses the PlasmaCAM in his business:
published article
Click on an image to view publication
<< Back to Articles